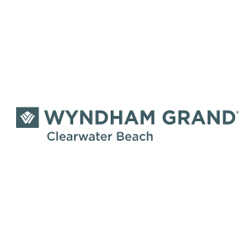 Busperson SEASONAL
Sorry, this job has expired.
Clearwater Beach, FL
Paid Tuition Reimbursement, Paid personal time, Vision Insurance, Dental Insurance, Health Insurance
Wyndham Grand is now seeking a Busperson - Seasonal to join our team at the Wyndham Grand Clearwater Beach location in Clearwater, Florida.
Apply in person Monday, February 15th at our Wyndham Grand Clearwater Beach Hiring Event, 10am - 6pm. Click Apply In Person for the address. There will be free parking for the hiring event, details will be in your confirmation email after you click "Apply" and submit your information.
Wyndham Grand offers a comprehensive benefits package that includes:
Tuition Reimbursement
Complimentary Meals
Complimentary Parking
PTO
Medical, Dental, and Vision Coverage
Hotel Discounts
Job Summary
The Outlet Busperson is responsible for assisting the servers in providing the highest quality service possible to guests while maintaining the highest standards of cleanliness and sanitation throughout the hours of operation. The busperson must insure that all tables are kept clean and presentable with clean china, glassware, silverware and linen.
Education & Experience
High School diploma or equivalent and/or experience in a hotel or a related field preferred.
Physical Requirements
Flexible and long hours sometimes required.
Heavy work - Exerting up to 100 pounds of force occasionally, and/or 50 pounds of force frequently and/or 20 pounds constantly to lift, carry, push, pull or otherwise move objects.
Ability to stand during entire shift.
General Requirements
Must be able to effectively communicate both verbally and written, with all level of employees and guests in an attentive, friendly, courteous and service oriented manner.
Must be effective at listening to, understanding, and clarifying concerns raised by employees and guests.
Must be able to multitask and prioritize departmental functions to meet deadlines.
Approach all encounters with guests and employees in an attentive, friendly, courteous and service-oriented manner.
Attend all hotel required meetings and trainings.
Maintain regular attendance in compliance with Wyndham Hotels & Resorts Standards, as required by scheduling, which will vary according to the needs of the hotel.
Maintain high standards of personal appearance and grooming, which includes wearing the proper uniform and nametag.
Comply with Wyndham Hotels & Resorts Standards and regulations to encourage safe and efficient hotel operations.
Maximize efforts towards productivity, identify problem areas and assist in implementing solutions.
Must be effective in handling problems, including anticipating, preventing, identifying and solving problems as necessary.
Must be able to understand and apply complex information, data, etc. from various sources to meet appropriate objectives.
Must be able to cross-train in other hotel-related areas.
Must be able to maintain confidentiality of information.
Must be able to show initiative, including anticipating guest or operational needs.
Perform other duties as requested by management.
Maintain a friendly and warm demeanor at all times.
Fundamental Requirements
Employees must at all times be attentive, friendly, helpful and courteous to guests, managers and fellow employees.    
Keep all work areas clean and properly stocked according to the current meal period.
Keep all tables cleaned and properly set according to property specific standards.
Break down trays of soiled dishes and linen in the dishroom area according to established standards.
Assist servers by delivering and refilling beverages, pre-bussing tables, and promptly resolving any guest requests.
Complete daily opening and closing duties and cleaning according to established side-work checklist.
Answer the phone in an attentive, courteous and efficient manner.
Assist fellow employees as needed throughout the shift.
Provide service to guests in waiter's absence as needed.
Maintain beverage levels in glasses/cups on table at least ¾ full at all times. (coffee, tea, soda, lemonade, and water).
Ensure overall guest satisfaction.
Various Schedules with 40 hour work week scheduling.


14058902